Blancpain The Great Wave, The Great Artistry
Blancapin in recent years has dug deep into Japanese ancient craftsmanship and used the techniques on watchmaking, wisely and admirably. This year, the great wave of Kanagawa sweeps on the dial. With its impeccable sculptural work, the piece is no doubt one of its kind.
Metiers d'Art The Great Wave
We would say it is a bold decision for Blancpain not having a tourbillon, perpetual calendar, or carrousel watch among this year's novelties. Instead, their star in this years' Basel is an artistic watch. It is downright incredible and showcases the Manufacture's artistic prowess, like what we've seen on the Villeret Squelette 8 Jours, with its skeletonised dial and thin bridges engraved with guilloche pattern or embedded with diamonds.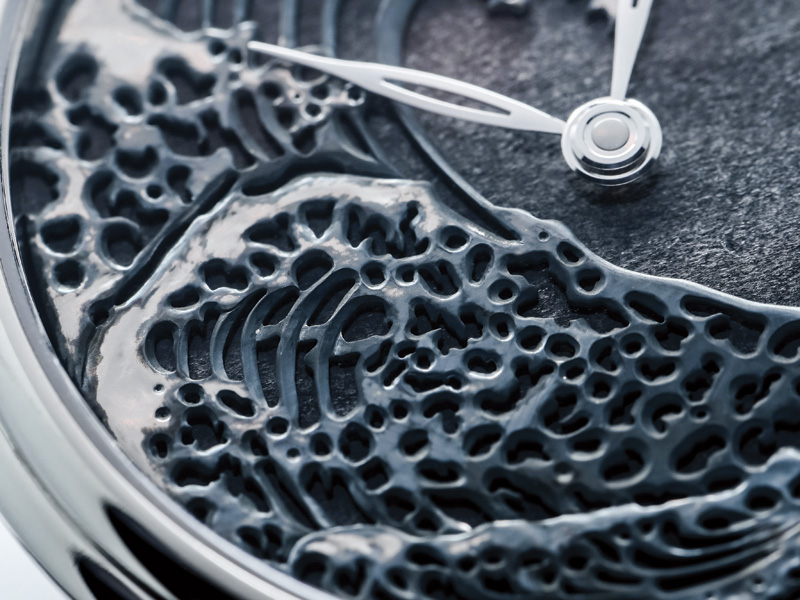 Renowned for its flawless enamel painting and delicate engraving, Blancpain never stands still. Last year, they explored the ancient Japanese artistry Shakudo which was used historically to create swords, decorative objects and jewellery. And it is utilised for the first time in horology. Five exquisite Shakudo pieces were created last year; among them, the Shakudo Ganesh won the GPHG Artistic Crafts Watch Prize. As the Japanese artistry Shakudo rises to fame, Blancpain this year introduces another Shakudo watch. Not only is the dial crafted by Shakudo technique, the motif is also inspired by "The Great Wave off Kanagawa", a Japanese woodblock print created by artist Katsushika Hokusai. The piece indeed melds the best of traditional arts and craftsmanship of Japan. (Katsushika Hokusai is best known as author of the woodblock print series "Thirty-six Views of Mount Fuji" which includes the internationally recognised print "The Great Wave off Kanagawa" and "Red Fuji")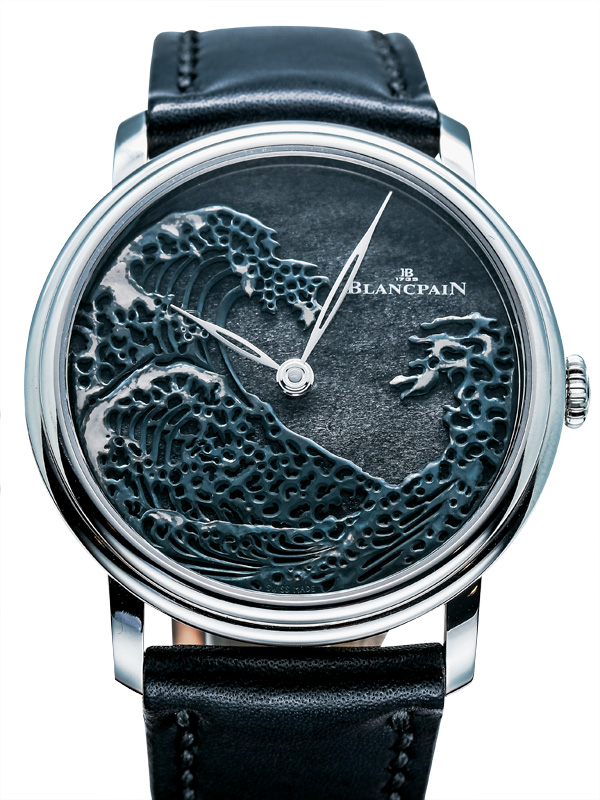 Let's take a brief of what is Shakudo. Of Japanese origin, Shakudo is an alloy principally composed of copper and gold. The alloy acquires a dark patina between blue and black, which is achieved by undergoing a process called passivation, which calls for the application of a solution. This solution, which is composed of the green gray copper acetate (known as rokusho), causes the metal surface to lose its chemical reactivity and creates an anti-oxidation layer. Based on the quantity of the rokusho solution, the black becomes successively deeper and more intense.
To create the "The Great Wave" applique, the white gold motif first fixed to a Shakudo base before being coated with a unique patina achieved by immersing it into a bath of rokusho salts. Once the patina has been applied, certain parts of the wave roller are polished in order to give life to the huge billowing wave. Finally, the Manufacture chooses the Mexican silver obsidian as the backdrop of the dial. This succession of steps gives the piece a shimmering appearance playing on the mysteriously changing tones of the dial. Cased in white gold, the timepiece is 42mm in diameter, 3mm smaller than last year's Shakudo models. Besides in a more wearable size, the movement is also changed to the hand-wound Cal.13R3A movement which offers a power reserve of 8-day. It is good to see the Shakudo on the dial again. But the bad news is: it is again a unique piece. For this, we believe the Manufacture don't want to sell you more watches, they want to make better watches.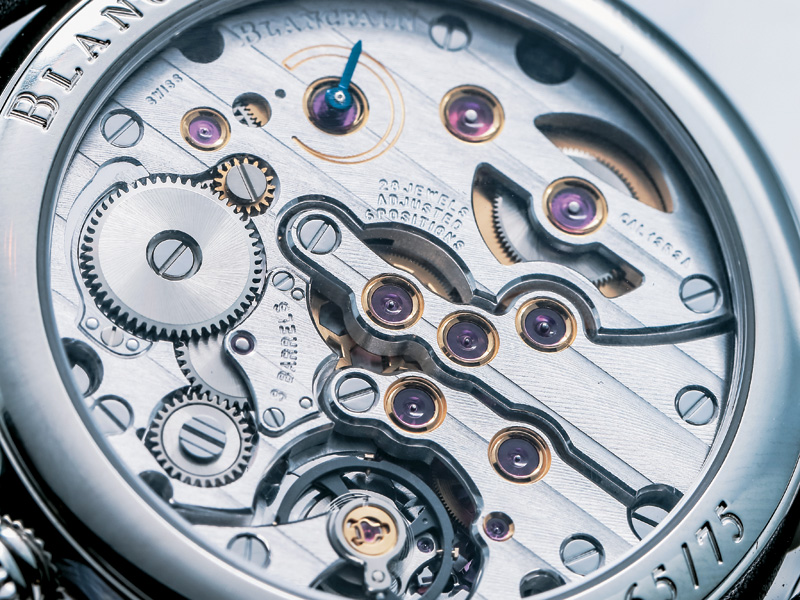 Specification:
表殼:白金
直徑:42mm
機芯:13R3A手上鍊
功能:時、分、8日鍊、表背動力儲備顯示
約售:$1,369,000
限量:1枚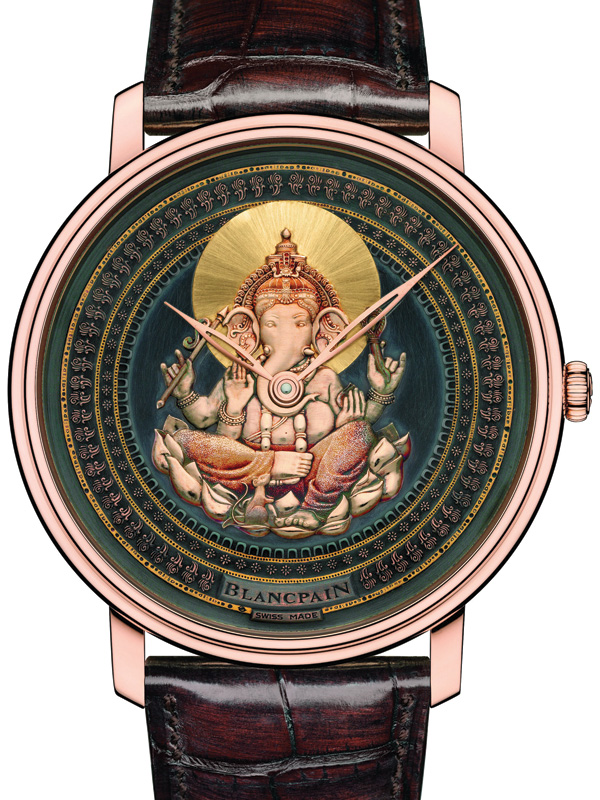 Shakudo Ganesh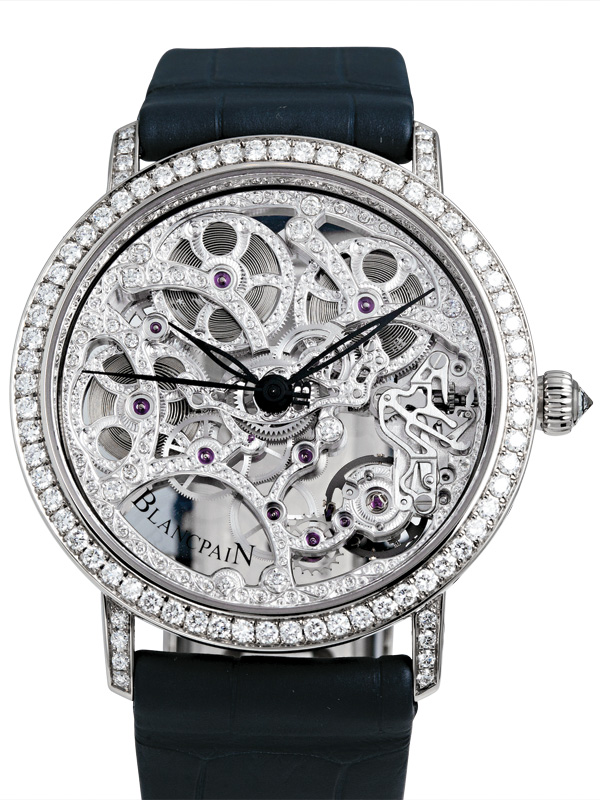 Villeret Squelette 8 Jours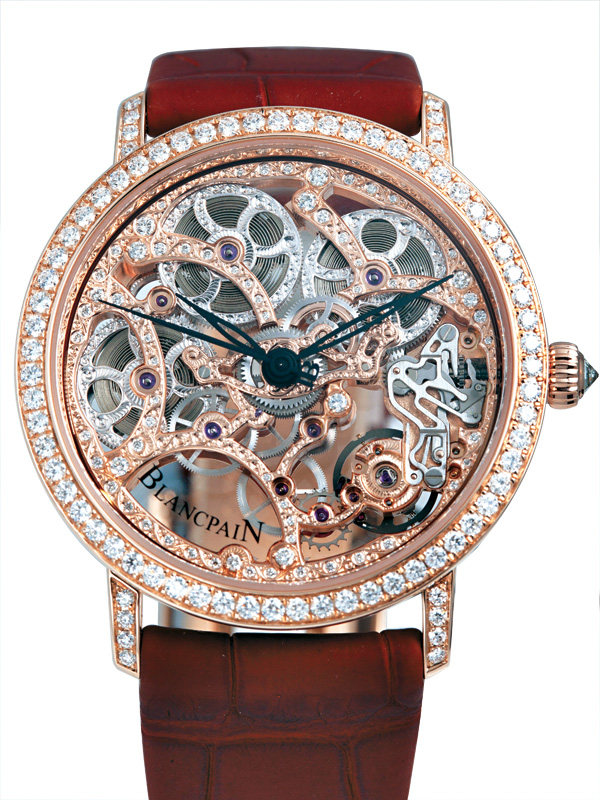 Villeret Squelette 8 Jours
Villeret Quantieme Annuel GMT
It has been five years since we saw the Villeret Quantieme Annuel GMT. In just five years time, the oversized watch was once a trend. Today we are back to diameters that are midsize. More notably, the continual rise in watch prices has seemingly stopped. We can find scores of affordable pieces of excellent value.
Featuring the annual calendar and GMT at 8 o'clock, the previous Villeret Quantieme Annuel GMT with an unusual dial layout is cased in red or white gold. To the best of my knowledge, it is a Blancpain's tradition that all complicated pieces come in precious metals. The latest Villeret Quantieme Annuel GMT is still elegant and classic, but appears for the first time in steel; it is, therefore, also the very first complicated watches dressed in steel for Blancpain. The Manufacture explains that it would let more customers to appreciate their complex movements. In fact, F.P. Journe last year also released a set of watches in stainless steel to bid farewell to the 38mm case. Though it is a limited edition for commemoration, no one can surely tell they are just one-off pieces. For Blancpain, will there be more complications cased in steel coming? Time will tell.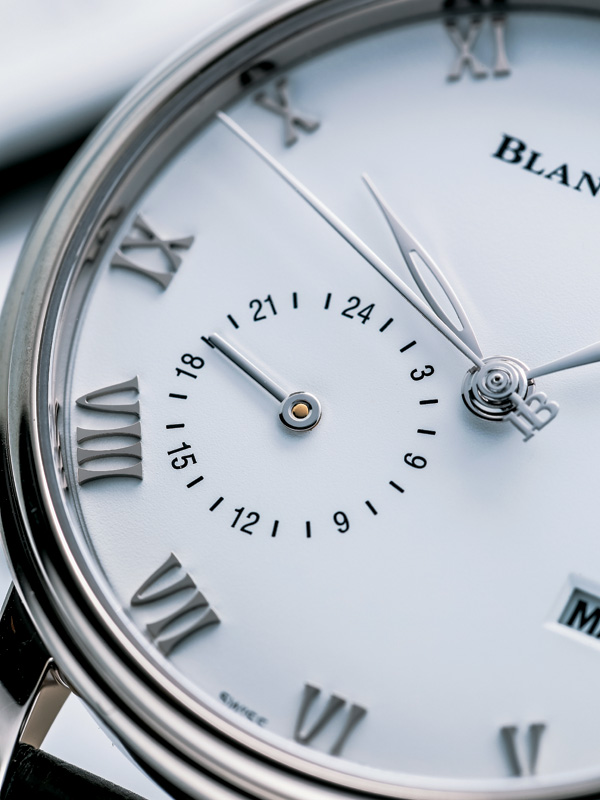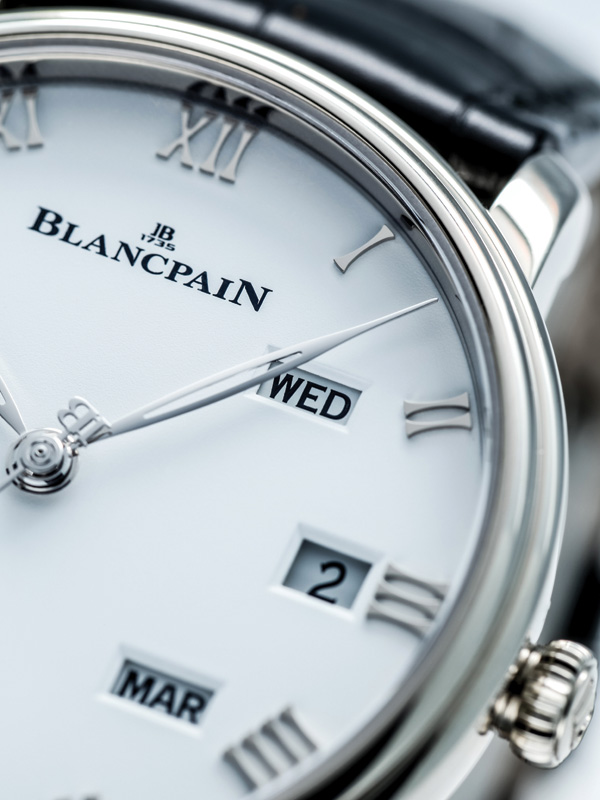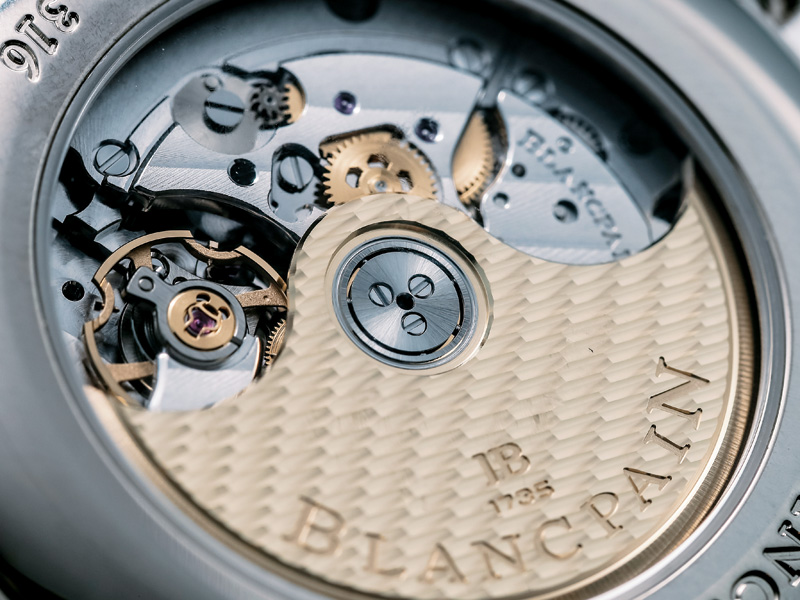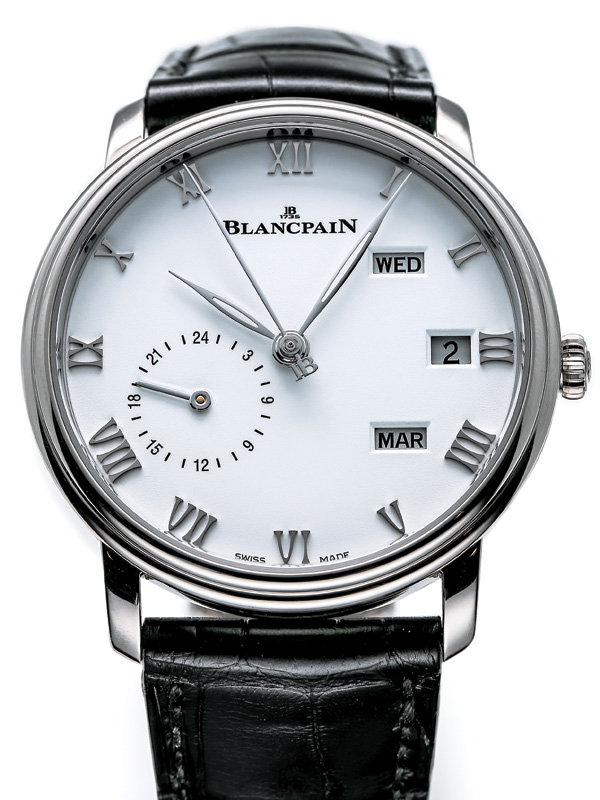 Specification:
表殼:不鏽鋼
直徑:40mm
機芯:6054F自動
功能:時、分、秒、年曆、兩地時間
約售:$218,500
Villeret Ultraplate
Look familiar? The Villeret Ultraplate watches released last year feature a grey and white dial. These three watches you are seeing are the new members in the Ultraplate family. Powered by automatic movements, they feature a date, a retrograde small seconds, or a pointer-day display with retrograde small seconds respectively. The pieces all come in white gold and are classically sized at 40mm with a fine sunburst pattern on the dial. The trio work well with a suit and are equally attractive options. Picking a favourite certainly isn't easy.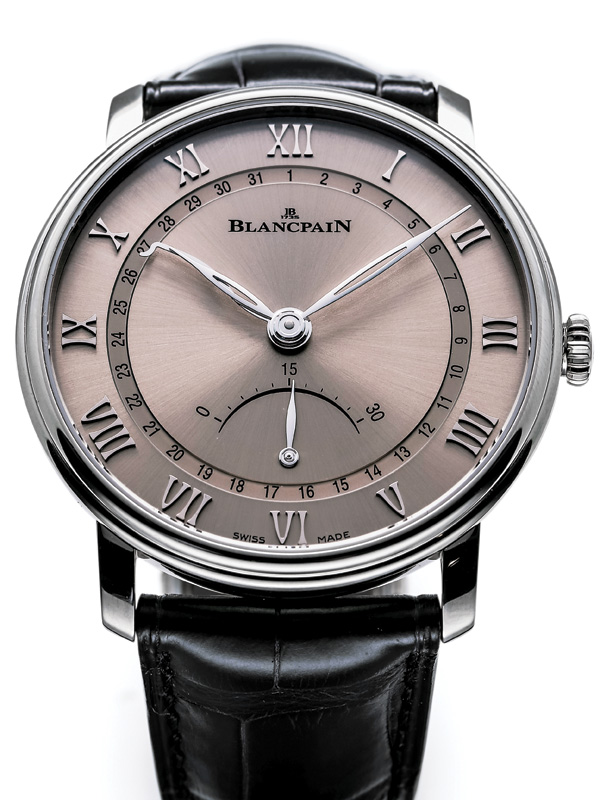 約售$167,000
約售$163,000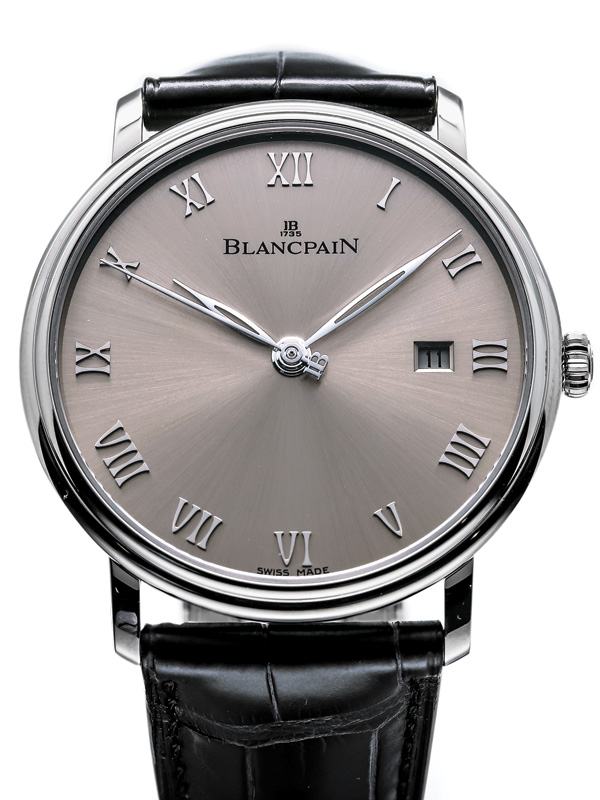 約售$143,000
Specification:
表殼:白金
直徑:40mm
機芯:自動
功能:時、分、日期 / 時、分、飛返小秒 / 時、分、日期、飛返小秒
約售:$143,000-$167,000
Fifty Fathoms Bathyscaphe
Fifty Fathoms is definitely one of the most important dive watch ever made in watchmaking history. Last year we saw the Fifty Fathoms Bathyscaphe dressed in Sedna Gold, lending the piece a quietly luxurious touch, while the latest addition is cased in the lightweight grey ceramic. What impresses much is the blue dial. Though we've seen some blue dial models in recent years, they are chronographs. So for those who look for a simple and clean Fifty Fathoms in blue, this will be an ideal one. The ceramic case measures 43.6mm in diameter and is water resistant up to 300m. This Fifty Fathoms Bathyscaphe houses the Cal.1315 automatic movement providing 5 days of power reserve and is paired with a NATO strap or canvas strap.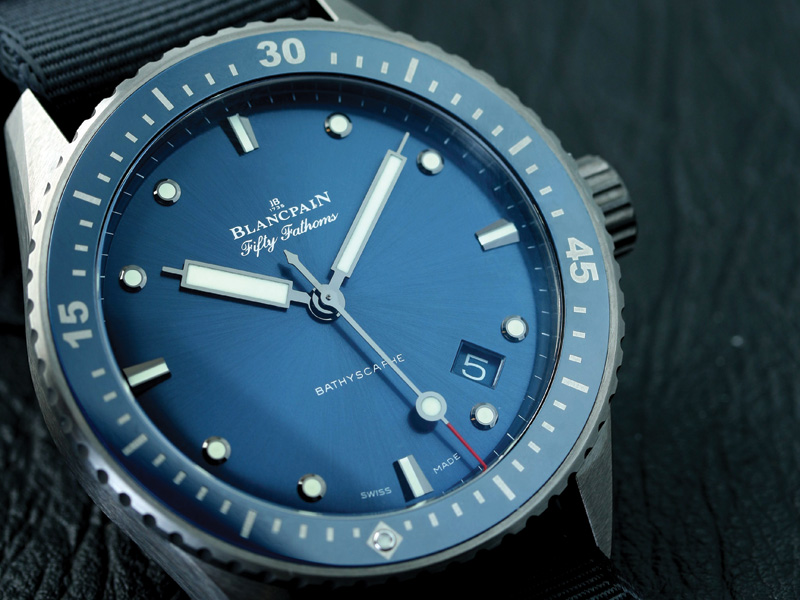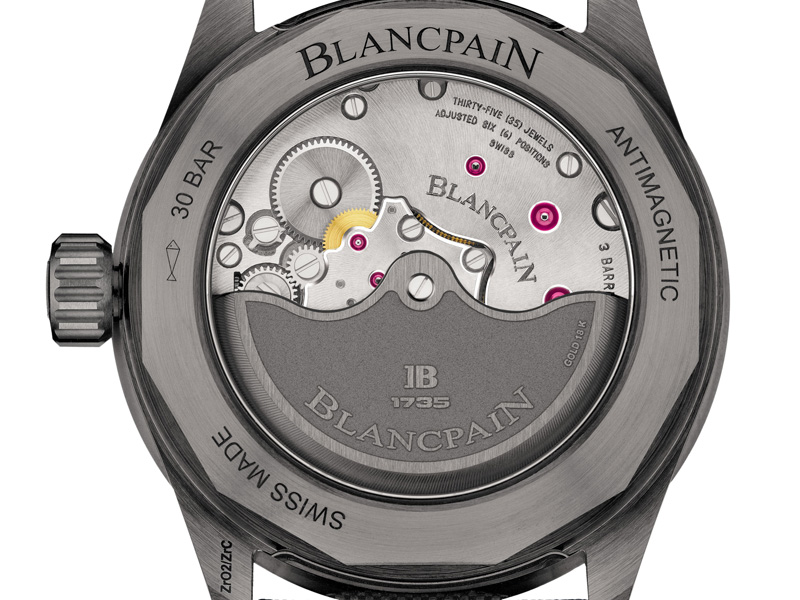 Specification:
表殼:陶瓷
直徑:43.6mm
機芯:1315自動
功能:時、分、秒、日期
約售:$103,000
8 Jours Manuelle
Last year, Blancpain created the Day Night for women. Just gorgeous. Yet the new 8 Jours Manuelle is as good as the Day Night, if not better. Simple yet elegant, the two-handed piece boasts a black onyx dial decorated with enamel cherry blossom motif. Looking at this piece you'll know, women's watch is always Blancpain's strong suit.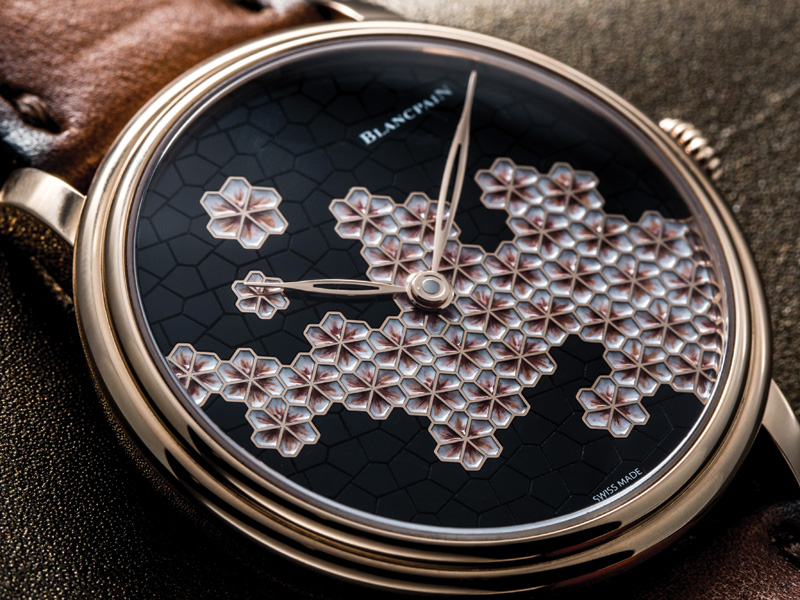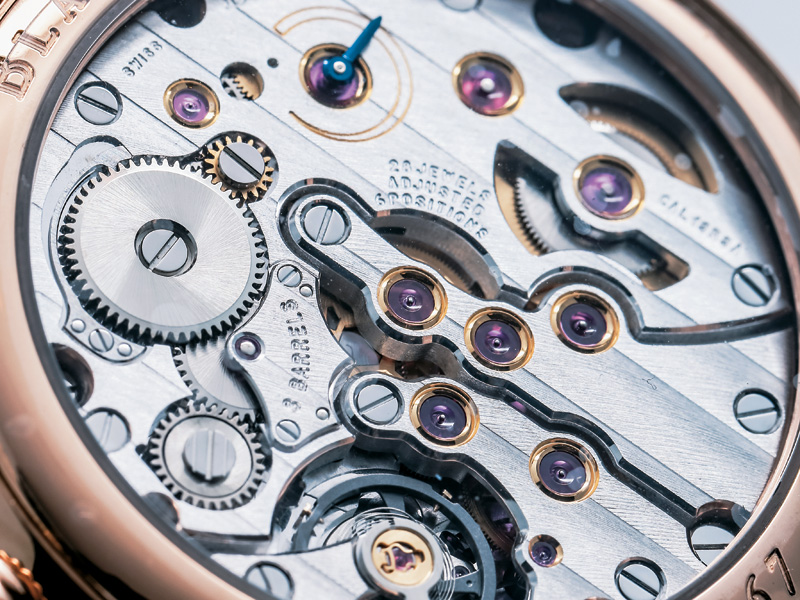 Specification:
表殼:紅金
直徑:42mm
機芯:13R3A手上鍊
功能:時、分、8日鍊、表背動力儲備顯示
約售:$1,283,500
限量:1枚
Ladybird Ultraplate
The Ladybird was born in 1956 when the fashion was for jewelled watches in which the emphasis was on ornamental features. Within such context, Blancpain, nonetheless, unveiled the world's smallest round mechanical watch Ladybird and this petite beauty was soon recongnised in the market then. This year marks the 60th anniversary of the Ladybird collection. The Manufacure has created a number of pieces to pay tribute to this ageless collection. Among them, a 60-piece limited edition is introduced. Set with 32 diamonds on the bezel and 8 on the dial, the watch features a mother-of-pearl dial adorned with foliage motif and is complemented by a Louisiana alligator leather strap. Two other models with a removable charm are also on offers: the white gold model comes with a reversed heart charm, while the red gold one with a ladybird charm, further adding the feminine touch.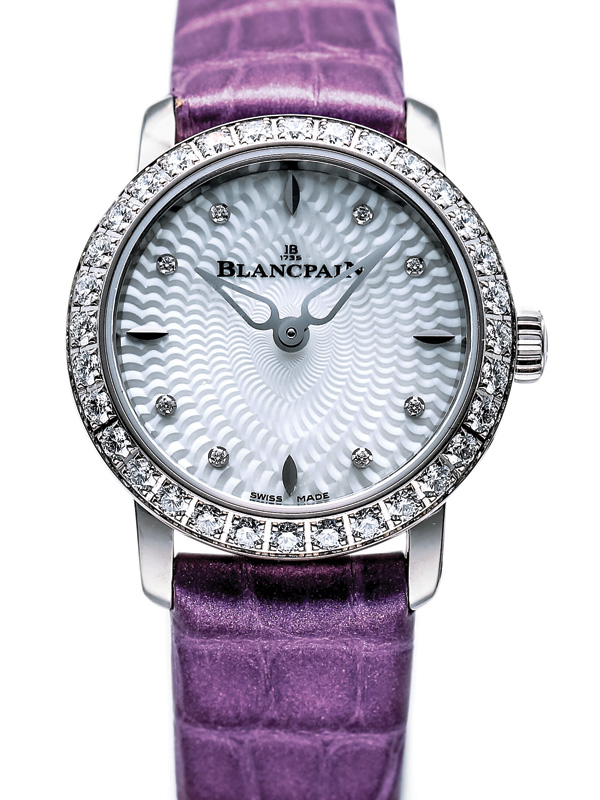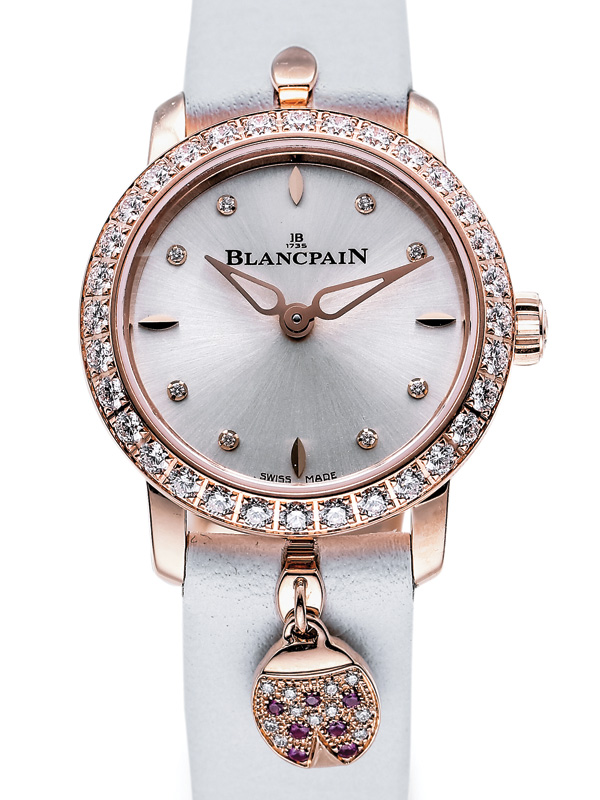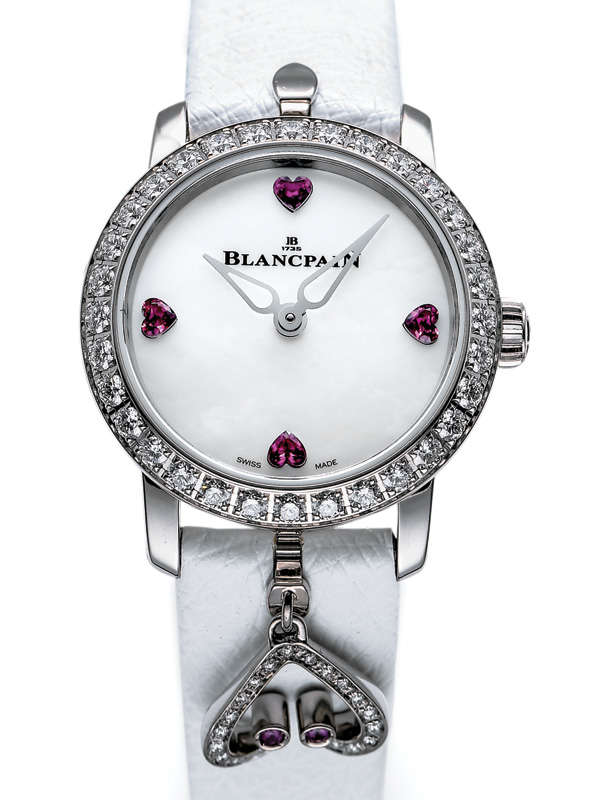 Specification:
表殼:白金 / 紅金
直徑:21.5mm
機芯:6150自動
功能:時、分
約售:$154,000-$180,000
BLANCPAIN 興工藝之風 作東瀛之浪
Text & Translation: Casper Li / Photo: Kauzrambler
Copyright © 2023 Spiral 游絲雜誌. All rights reserved