MONTBLANC Motor Racing Spirit
This year the star of Montblanc is no doubt the TimeWalker collection. The watches are in line with the motor racing theme and embody the essence of the storied Swiss watch manufacture Minerva's chronographs.
To Montblanc, the most important thing is not who wins at the starting line, but who lasts until the finish line. The Manufacture first produced writing instruments and has expanded its offering to leather goods. In 1997, Montblanc established its own manufacture in Le Locle and took its first steps in watchmaking. And the crucial turning point occurred in 2001 – Richemont, the parent company of Montblanc, acquired the Minerva manufacture. Since then Montblanc has absorbed Minerva's know-how in a fast-track upgrade, bringing Montblanc to new heights.
The Minerva manufacture is well-known for its chronograph movements. They developed stopwatches that could measured 1/5th of a second as early as 1916, rapidly increasing to 1/10th of a second. In 1916, the created a high frequency movement measuring 1/100th of a second, making Minerva a pioneer in the field of chronograph movements. For decades, Minerva chronographs earn the admiration of lots of seasoned collectors. This year, the latest TimeWalker watches are inspired from the Minerva's glorious history, underscoring the deep connection of car racing and high performance timing watches.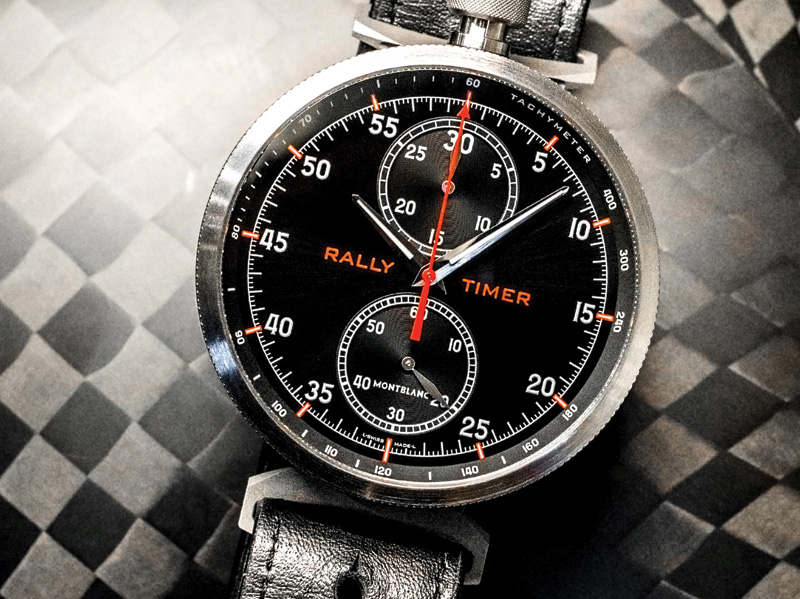 TimeWalker Chronograph Rally Timer Counter
Limited Edition 100
The TimeWalker Chronograph Rally Timer Counter Limited Edition 100 has many details that recall vintage sport cars, such as the huge 50mm case, only minute markings on the dial, tachymeter scale as well as the large crown at 12 o'clock. Tens of years ago, the motor racers wore watches like this one on the tracks.
This piece is created to pay tribute to the motor racing in 20th century, with the red "RALLY TIMER" written on the dial. And a great colour contrast can be seen by the central seconds hands in red and black dial. The legibility reminds that victory can only ever be judged by true and accurately timed results. Getting pass the dial, let's look at the case. The middle section of the case is knurled and coated with black DLC. The piece ties together vintage and sporty look and can even converted in different forms. Obviously it can be converted into a wristwatch and pocket watch. Detaching the black leather calf strap, you can also make it a table clock with the support of the arms hidden on the caseback. If you own a sports car, you could attach it to the dashboard, allowing the watch to be viewed behind the wheel. Turning over the case you can find many fine details such as the Minerva signature V-shaped bridge, arrow, and a large screwed balance wheel.
Montblanc has gone from strength to strength over the pass few years. The leading by previous CEO Jerome Lambert proved the success; his contributions did count. Although he has been promoted to the position of Head Of Operations in Richemont, Jen Henning Koch, Executive Vice President for Marketing of Montblanc, told us in this year's SIHH that their strategy will not be altered much – the affordable pieces like the $100,000 perpetual calendar watch will keep coming. Of course we all know quality comes before price. These years, Montblanc's creations are priced reasonably, be it a simple or complicated model. Last but not least, to guarantee the watch quality and functioning, all watches must go through Montblanc Laboratory 500 hour test. So that every watch is thoroughly examined before it's allowed to leave the premises.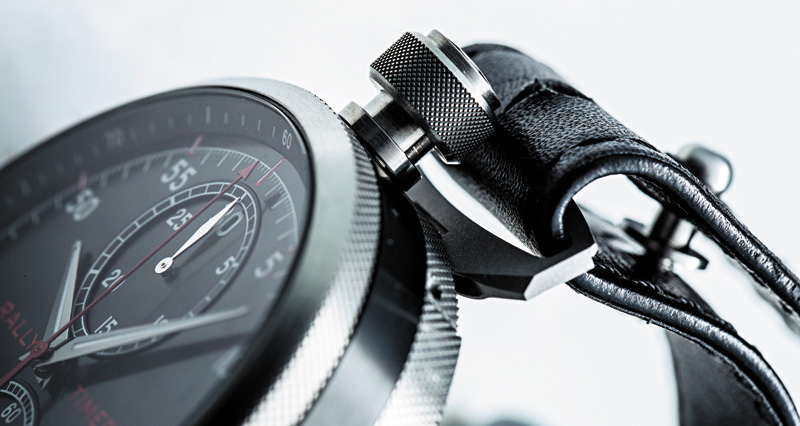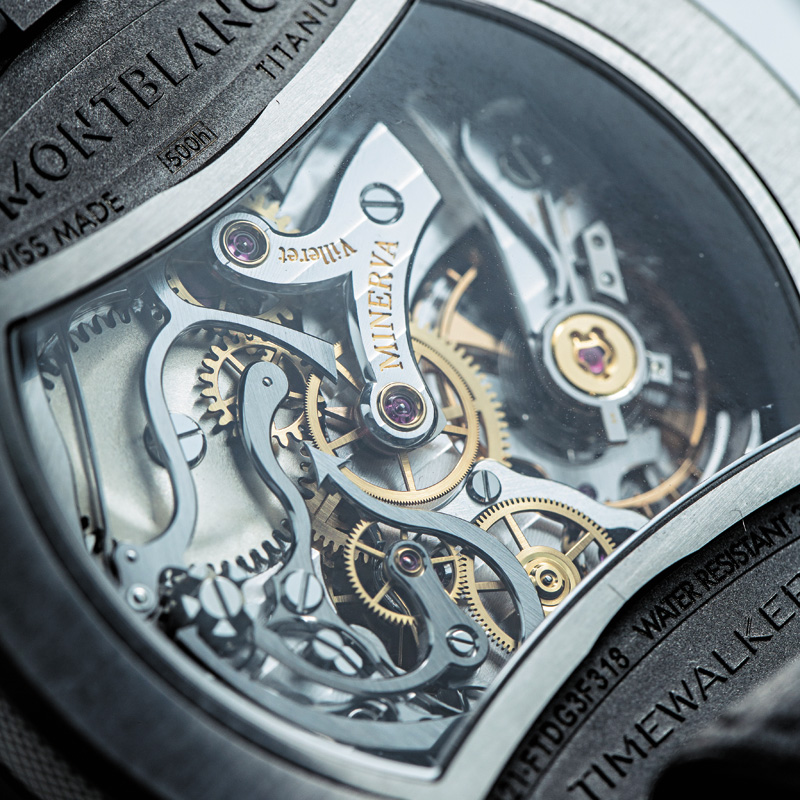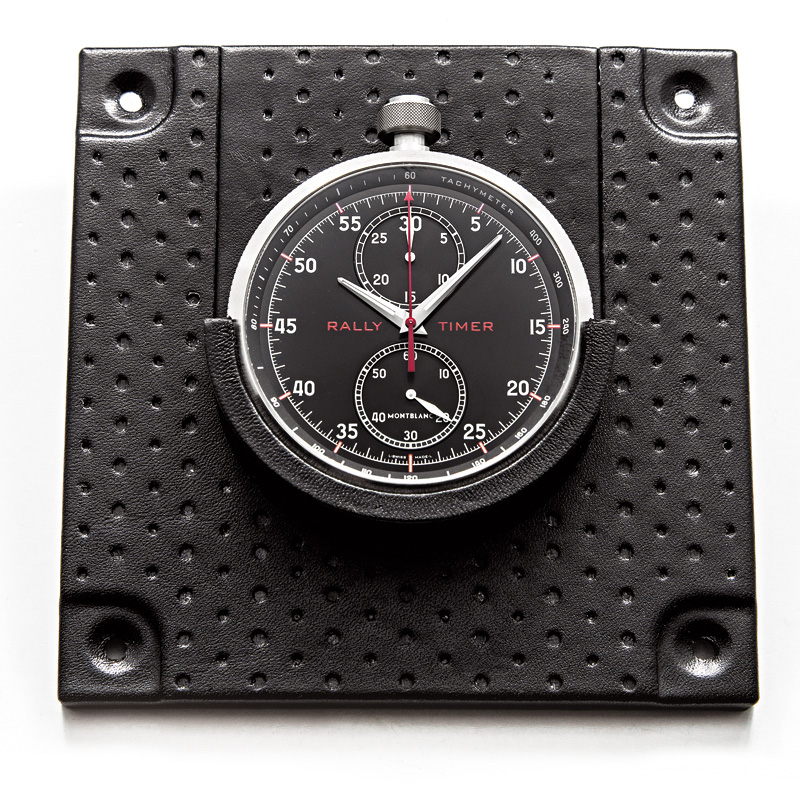 Specification:
Case: Titanium
Diameter:50mm
Movement: hand-wound MB M16.29
Functions: hours, minutes, seconds, chronograph, tachymetre
Water resistance: 30 metres
Limitation:100 pieces
Price:around $258,100
TimeWalker Chronograph 1000
Limited Edition 18
Apart from regular chronograph, other complicated chronograph functions includes flyback and split-seconds. Minerva manufacture is arguably an expert of such functions. To show their sheer mastery of chronographs, the 1/1,000th of a second movement would be the best example. You may ask why we need to measure 1/1,000th of a second. Indeed we do. We are talking about timing instruments for motor racing. Without any high technology equipment, you can still get precisely timed results by the watch on your wrist. Sound Amazing?
To record the time to 1/1,000 of a second is no easy task. The technical feat is to develop a movement with a balance wheel with frequency of 360,000 beats per hour. The rapid oscillator completes 100 to-and-from motions per second to make the central axial red seconds hand run. This tempo not only guides the motion of the 1/100th dedicated mechanism, but it also sets the pace for delivering an impulse of energy to the so-called "thousandth wheel". It rotates around its own axis at a uniform speed of ten rotations per second and thus provides the resolution with which hundredths of a second can be further divided into sets of ten increments.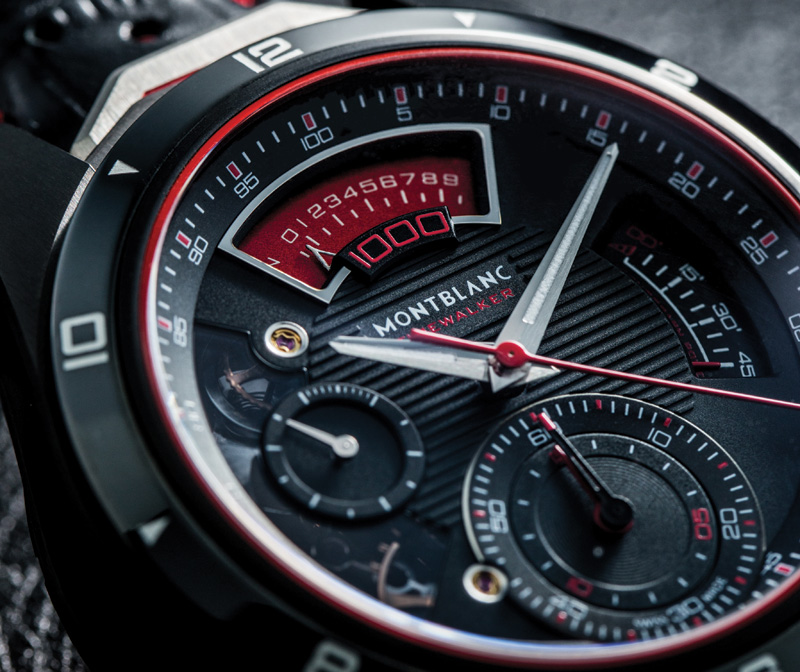 The timing result is surprisingly easy to read. A double counter at 6 o'clock has a longer, red-tipped hand to tally elapsed seconds from 1 to 60, as well as a shorter, all-red hand to count a maximum of 15-elapsed minutes. The chronograph's indicators begin with a red, centrally axial, elapsed 100th of a second hand that completes one full 360° rotation every second so that its tip sprints along the hundredths-of-a-second scale on the dial's periphery while the thousandths of a second is displayed at 12 o'clock. Take the photo below at example, the actual result is "0.364" seconds. It's not hard to imagine the 1/1000s chronograph mechanism cost a great deal of energy. As such, the piece is equipped with double barrel. The chronograph function is powered by its own barrel, which stores energy to measure intervals of up to 45 minutes in duration (wound by turning the crown counter-clockwise). The time display draws its energy from a second barrel that provides 100 hours of power reserve (wound by turning the crown clockwise).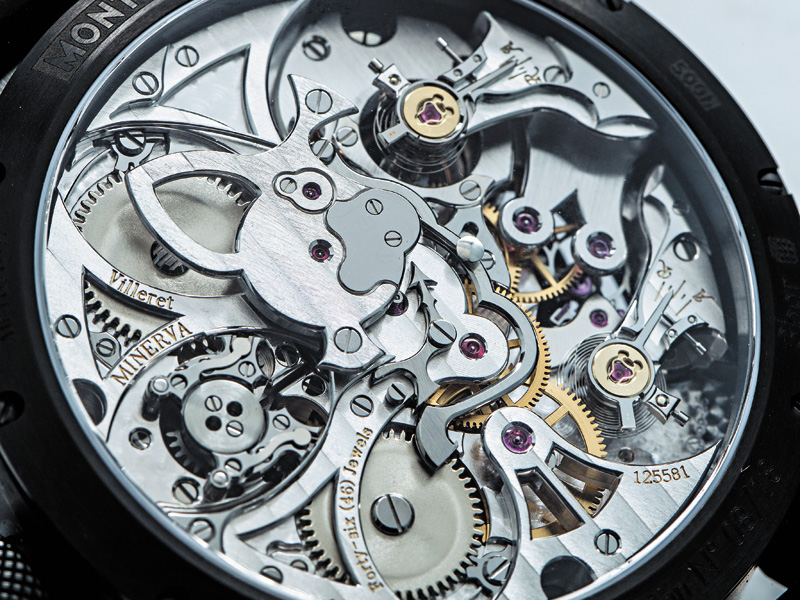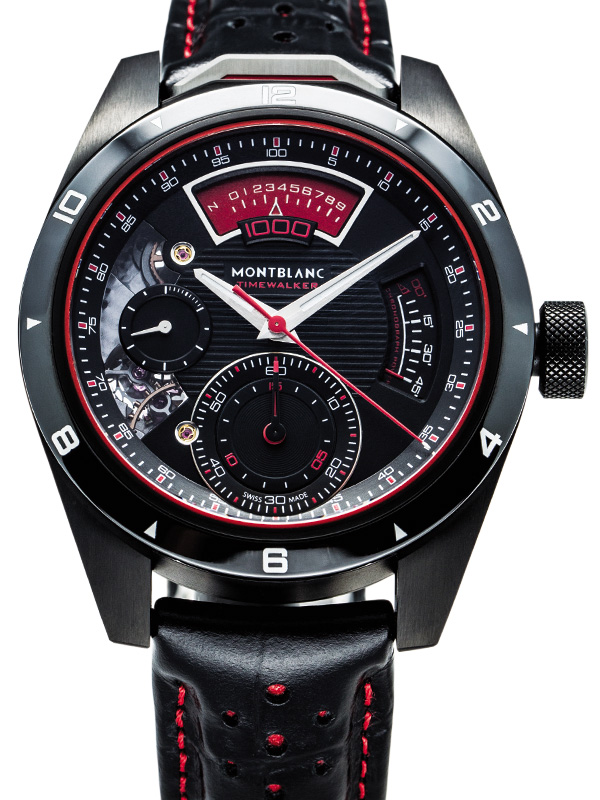 Specification:
Case: DLC Titanium (ceramics bezel)
Diameter: 46.4mm
Movement: hand-wound MB M66.26
Functions: hours, minutes, seconds, 1/100th second chronograph, chronograph power reserve indicator
Water resistance: 30 metres
Limitation: 18 pieces
Price: around $1,221,000
TimeWalker
Chronograph UTC
The latest iteration of the TimeWalker collection shows its passion for car racing with its refreshed look. When compared with the previous TimeWalker UTC models with matte grey dial, the new version in black is more impressive. Equipped with an automatic movement, The watch comes in 43mm DLC case with a shiny ceramic bezel, while the black dial features strong contrast with the silvery-white indices and red central hand. Speaking of the dial layout, the date window is located at 3 o'clock and small seconds dial at 9 o'clock. The home time can be read via a dark grey central hand adorned with a red arrow. The 30-minute and 12-hour counters resembling car dashboards in the past are assigned at 12 and 6 o'clock respectively.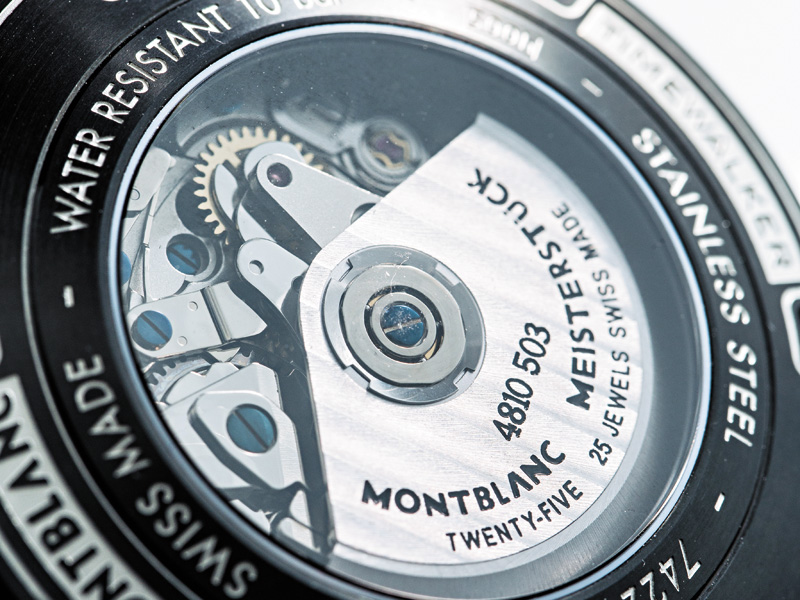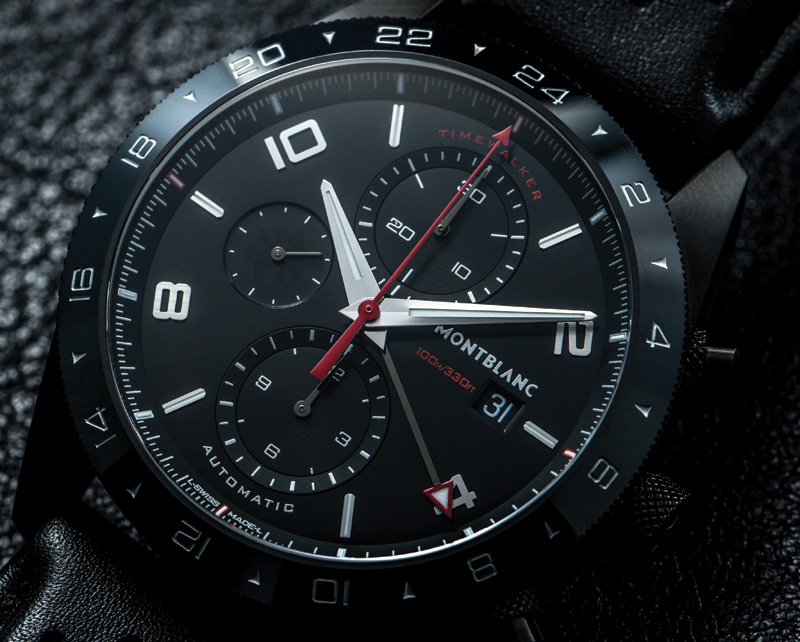 Specification:
Case: steel (ceramics bezel)
Diameter: 43mm
Movement: automatic MB25.03
Functions: hours, minutes, seconds, date, chronograph, GMT
Water resistance: 30 metres
Price: around $39,000
TimeWalker
Automatic Date
Across this year's TimeWalker collection, this automatic watch is the most affordable one. The 41mm piece comes in stainless steel with a ceramic bezel and features an iconic seconds hand in the shape of the Minerva arrow. Two versions are on offer: white dial marrying with Arabic numerals and hour markers; or black dial matching with minute scale from 5 to 60 resembling the motor racing style in early 20th century.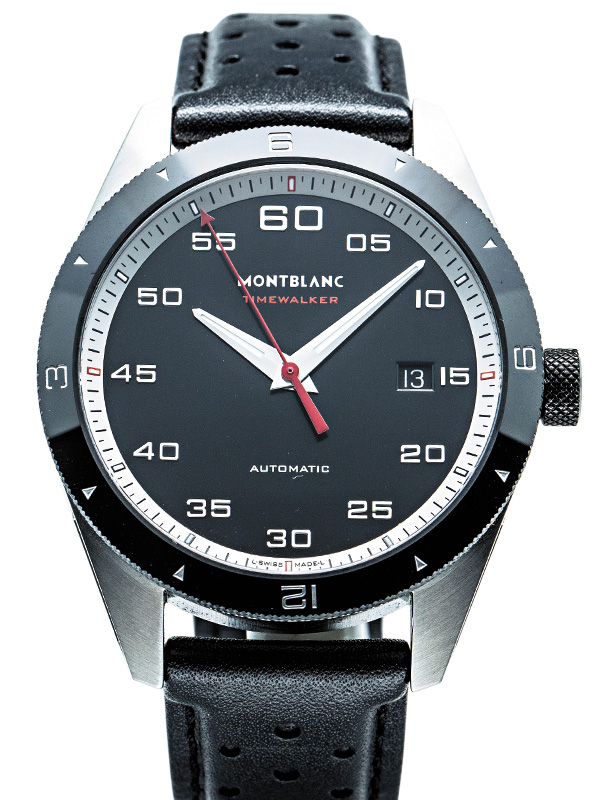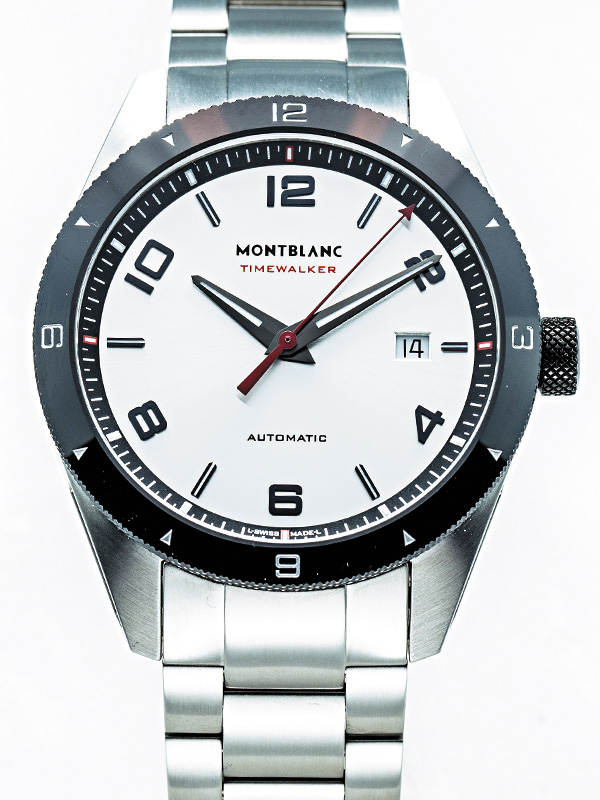 Specification:
Case: steel (ceramics bezel)
Diameter: 41mm
Movement: automatic MB 24.17
Functions: hours, minutes, seconds, date
Water resistance: 30 metres
Price: around $23,400
TimeWalker
Chronograph Automatic
Next up is another TimeWalker chronograph. Unlike the UTC model, this timepiece is without GMT function. Continuing the motor racing theme, the piece also comes in stainless steel with a ceramic bezel and features many motor racing design. The black DLC crown has been knurled like vintage petrol caps, while the caseback with a smoked glass recalling the glass windows that cover engines. The strap is even decorated with perforation holes, just like the leather driving gloves. Comparing with the UTC model, the watch features silvery-white sub-dial ring to give a metallic contrast. Completing the motor racing design, the two chronograph counters are placed at the top and bottom on the dial to bring back memories of vintage dashboards.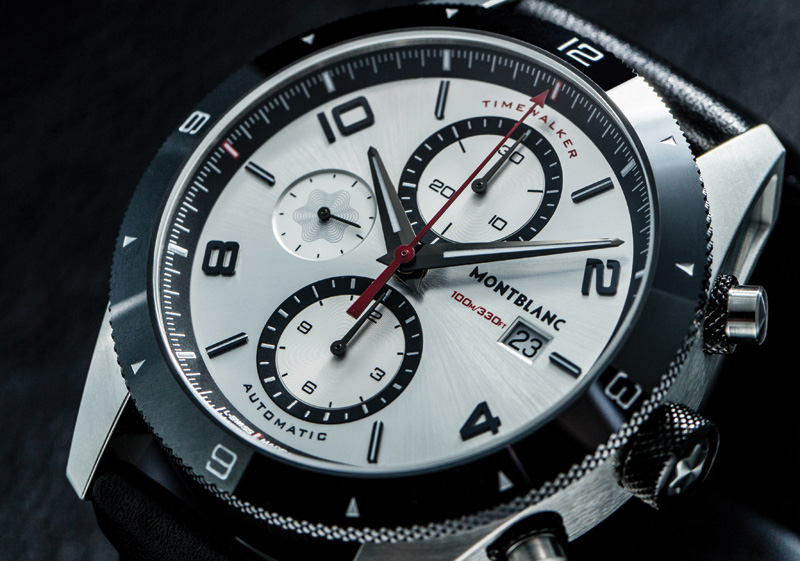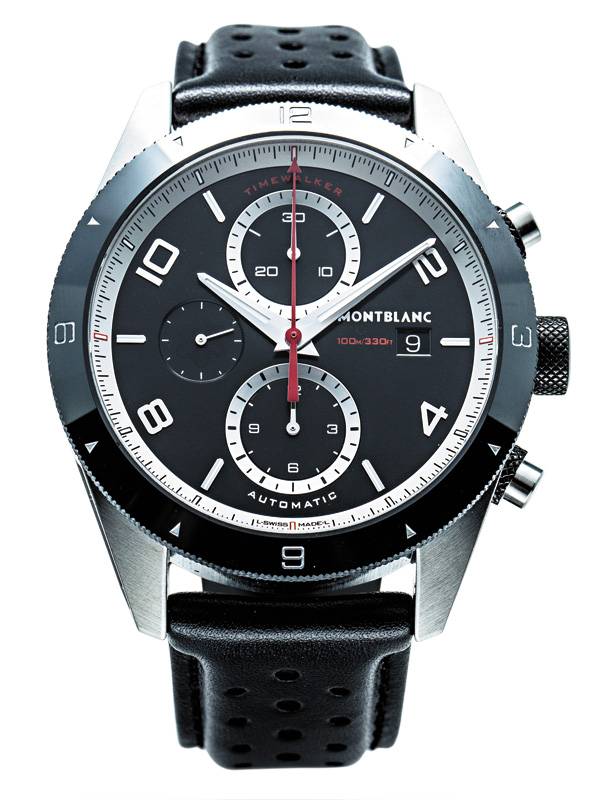 Specification:
Case: steel
Diameter: 43mm
Movement: automatic MB 25.07
Functions: hours, minutes, secons, date, chronograph
Water resistance: 30 metres
Price: around $31,200
2017-05-02
Text : Casper Li / Photo: Kauzrambler
Copyright © 2023 Spiral 游絲雜誌. All rights reserved